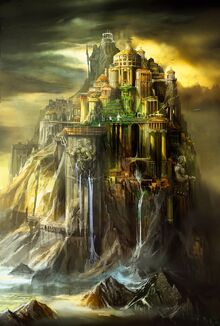 Gods' Council "神明會" represents the integration of War-Department & Titan Department that handles both internal & foreign affairs. It consists of many elements of preparation; strict order for each council meeting to be arranged.
In a Gods' Council, Each captain and lieutenant will be taking on the roles of the cabinet ministers and the head-captain will be taking on the role of the Secretary General. Their seat arrangement order is especially crucial and strict to represent and symbolize the specific council they are controlling while their lieutenant becomes in-charge of handling their division.
The Gods' Council embodies the voice of truth, the elements of righteousness within the warriors. As a whole, The Gods' Council is further segregated/categorized into eight other councils which objective is to be more specific in dealing matters as an entity. The Gods' Council constitutes the integration of both War-Department and Titan-Department; also known as a private-meeting between officers. 
The Eight other councils that links to the Gods' Council are as follows:
Council For Warriors' Rights. (CWR) *
Council For Representative Minority Rights. (CRMR)*
Council For Justice & Law (CJL) *
Council For Education & Character (CEC)* 
Council For Creative Development (CCD) *
Council For Admistrative Office (CAO) *
Council For Opposition Party (COP) *
Council For Economics & Finance (CEF) * 

In these councils, respective division captain and lieutenant will be assigned to take on several specific-related clan schemes and system within. Various clan systems and schemes are located in the webpage tab. 
Gods' Council is located at the most confidential & being the most restricted zone for all non-officer positions. Guards are assigned outside of the boundaries to lock-off unnecessary attentions from the outside. The division captains and lieutenants will be categorized into eight of these councils. Hence, they will act accordingly to a parliament decision/perspective. No matter how short/long the duration of meeting, they will be held under these circumstances & conditions at all times.